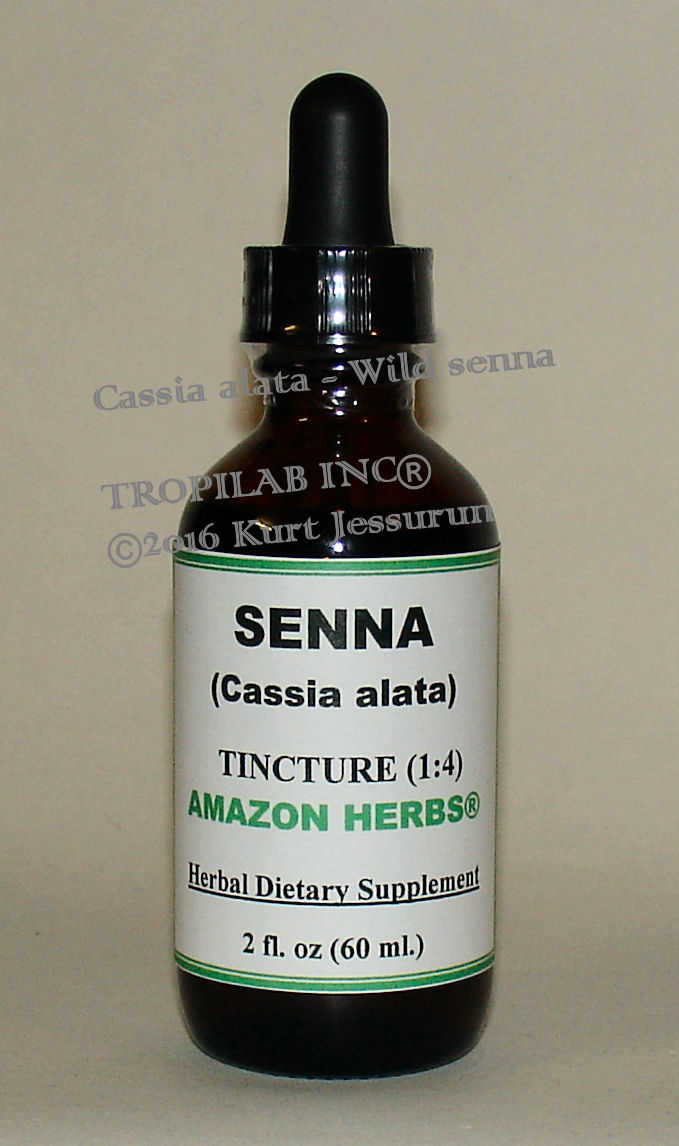 Overview

Senna is a powerful herb, used in the natural treatment of constipation; both the leaves and seedpods are used in this regard. It has also Ayurvedic applications such as against skin conditions and hypertension.
It is very effective as an antibacterial and antifungal agent.
Senna infusion (herbal tea) may be combined with carminative herbs such as Ginger or Fennel.
Excellent for weight loss, often in combination with Banaba (Lagerstroemia speciosa). It may also help to remove toxins from the body (detoxification).
Other applications are: Tinea pedis (athlete's foot), ringworm, eczema, itching and insect bites.
A strong decoction of the leaves can be used as an abortifacient (substance that causes pregnancy to end prematurely and causes an abortion).


Constituents

Chrysophanic acid, saponins, anthraquinones, (sennosides, A, B, C, D), glycosides, alkaloids, flavonoidglycosides, flavonoids, (kaempferol 3-O-gentiobioside), lectin, sitosterols, rhein, and tannins.


Pharmacology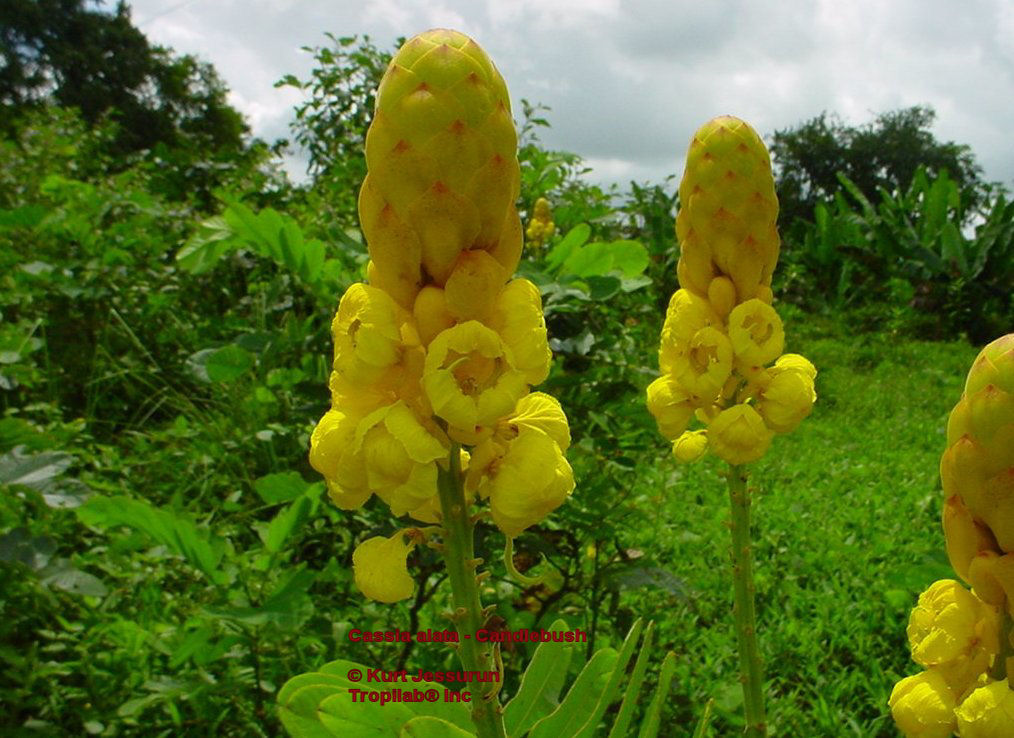 The antimicrobial activity of Cassia alata extracts has been investigated against S.aureus, S.aureus coagulase positive, B.subtilis,B. cereus B.stearothermophillus, E.coli, V.cholerae, S.typhi, S.dysenteriae and K.pneumoniae.
Cassia species with high levels of anthraquinones and crysophanic acid are very effective inhibitors of skin fungus, mite infestations, bacterial and microbial diseases. The acetone and ethanol extracts showed high activity against nearly all test microorganisms.
The inhibitory effects are very close and identical in magnitude and comparable with that of standard antibiotics (Miconazole), when used.
The therapeutic efficacy of Cassia alata leaf extract against Pityriasis versicolor (a skin fungus, aka Tinea versicolor) has been reported. This extract can be reliably used as an herbal medicine to treat this type of fungus. It has no side-effects.
It is also effective against infections caused by these fungi: Candida albicans, Trichophyton mentagrophyte and Aspergillus niger.
The phyto-chemical adenine, in the leaves has been documented as an effective platelet aggregating inhibitor (reduces sticky blood and arterial plaque).
Senna, like most Cassia species, contains a group of phyto-chemicals named anthraquinones; they are known for the laxative effect of this plant.
Senna is more effective than the antibiotic Erythromycin to increase the movement of stool through the bowels.


Senna leaves and seedpods as a laxative

As a herbal tea (herbal infusion), take ½ - 1 teaspoon/cup, twice a day; in the morning and again in the late afternoon.
The U.S. Food and Drug Administration (USDA) has approved Senna as a nonprescription laxative. For cleaning of the bowel it is excellent.


Tincture

Rub the herbal tincture on the affected skin area and do not wash off away for at least 3 hours.


Internal uses

1 - 4 ml before bedtime.


Precautions

Pregnant woman should not use Senna unless under supervision of a physician.
Senna should not be used by children under the age of 6 (six).
People experiencing diarrhea and with inflammatory bowel disease or intestinal ulcers, should not used it. Do not use Senna for a prolonged period of time.


For more information on Senna, go to the "Senna" page.


Reference

Assessment of Antifungal Potential of Aqueous and Methanol Extracts of Cassia alata.
Alalor C.A., Igwilo C.I. and Jeroh E.

Screening of antibiotic resistant inhibitors from local plant materials against two different strains of Pseudomonas aeruginosa.
Aburjal, Ti Darwish, S. Rmi Alkhalil, A. Mahgzah, A. Al-Abbdi
J. Ethropharmacol., 76: 39-44, 2001.


The above presentation is for informational and educational purposes only.
It is based on scientific studies (human, animal, or in vitro), clinical experience, or traditional usage.
For many of the conditions discussed, treatment with prescribed (RX) or over - the - counter (OTC) medication is also available.
Consult your doctor, practitioner, and/or pharmacist for any health problem and before using dietary supplements or before making any changes in prescribed medications.