Overview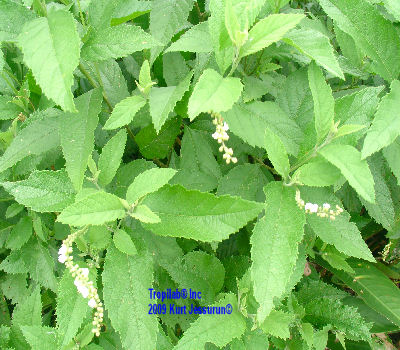 Cordia curassavica (Erva baleeira), is a small tropical shrub with a strong sage smell. It is used in folk medicine in Northeast South America for the remedy of several inflammatory processes (anti-ulcer and gastroprotective actions) and as a healing agent.

Phytochemicals
Artemetin, naphthoquinones, cordiaquinones A and B, cordiaquinones J and K, 5-6'-dihydroxy-3-3'-4-6-7-flavone, entamethoxy, and pentamethoxy.

Pharmacology
The artemetin has significant anti-inflammatory activity.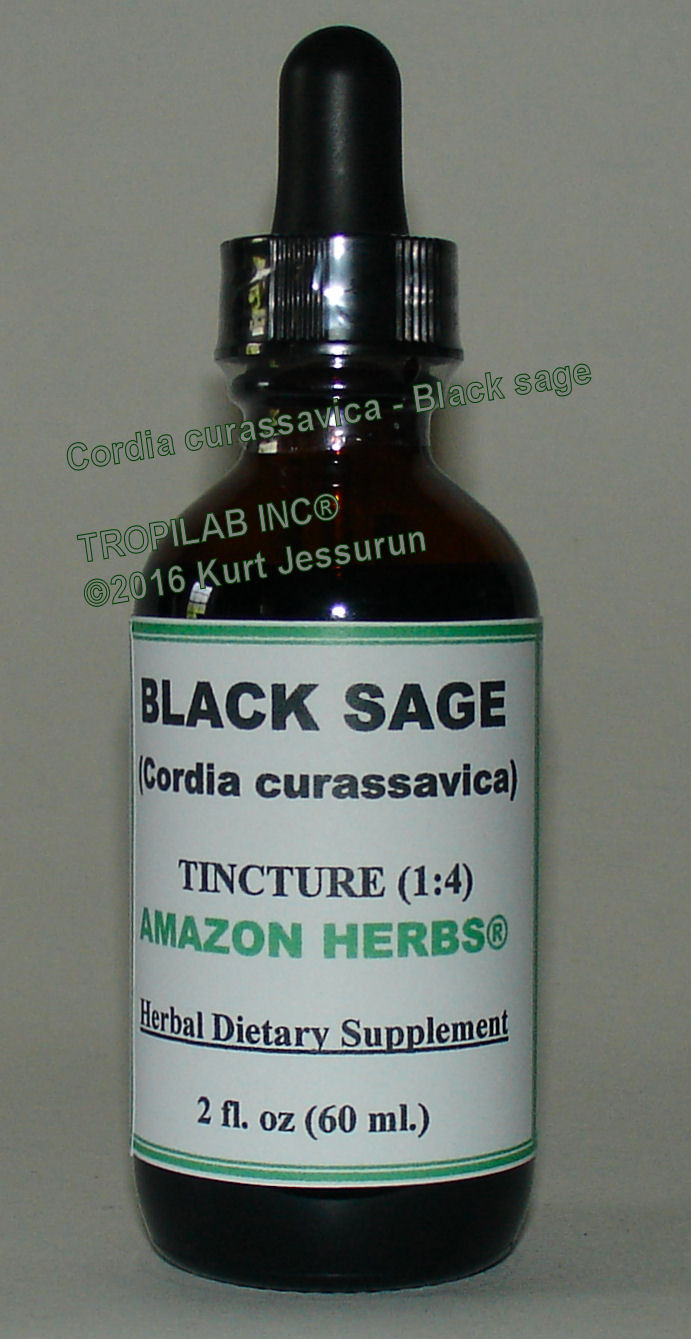 Antimicrobial activity of the essential oil was evaluated against bacterial and fungal strains. The oil and extracts exhibited antimicrobial activity against Gram-positive and Gram-negative bacteria and also five fungal strains. The study seems to confirm the use in the folk medicine of Cordia curassavica in gastrointestinal, respiratory and dermatological diseases. The major component of the leaf extract exhibited a very weak activity as an inhibitor of growth of Helicobacter pylori in vitro.

The four naphthoquinones demonstrated antifungal activities against Cladosporium cucumerinum, Candida albicans and toxic properties against larvae of the yellow fever-transmitting mosquito Aedes aegypti.

Evaluating the antiedematogenic activity (halts edematous swellings) of crude dichloromethane extracts of Cordia curassavica shows significant antiedematogenic activity, reducing the edema by 42, 57 and 45% and 46, 62 and 69%, 3, 4 and 5 hrs after carrageenin administration, respectively. In contrast, Indomethacin (Indocid, Indocin) which is a nonsteroidal anti-inflammatory drug (NSAID), reduces the edema only by 45 and 48%, after 4 and 5 hours.

Cordia alcohol leaf extract (tincture) shows a potent antiulcer activity at the dose of 125 mg/kg and this effect may be associated with an improvement in stomach antioxidant mechanisms.


Applications
Herbal infusion (medicinal tea) and tincture are used to manage infections, rheumatism and arthritis; it is an adequate anti-inflammatory. Black sage can be taken internally as well as applied topically for many types of inflammatory conditions.
In Traditional Mexican Medicine, it is used to manage gastrointestinal, respiratory and dermatological disorders.
It is also very successful in the remedial of edema (swelling of body parts).

For more information on Black sage, go to the "Black sage" page.


Dosage

Tincture: 1 - 2 ml, 2 times daily (internally)
Infusion (herbal tea): 0.5 - 2 cups daily.


Caution/side effects
No side effects known at present


Reference

Evaluation of the antiedematogenic activity of artemetin isolated from Cordia curassavica DC.
Bayeux M.C., Fernandes A.T., Foglio M.A., Carvalho J.E.
Brazilian Journal of Medical and Biological Research

Antimicrobial activity of the essential oil and extracts of Cordia curassavica (Boraginaceae)
Hemandez Tzasna; Canales Margarita; Teran Barbara; Avila Olivia; Duran Angel; Garcia Ana Maria; Hemandez Hector; Angeles-Lopez Omar; Femandez-Araiza Mario; Avila Guillermo

Phytochemical Investigation on Leaf Extract of Cordia salicifolia Cham
Luigi Menghini, Francesco Epifano, Lidia Leporini, Rita Pagiotti, Bruno Tirillini
Journal of Medicinal Food. March 2008, 11(1): 193-194. doi:10.1089/jmf.2007.583

The above presentation is for informational and educational purposes only.
It is based on scientific studies (human, animal, or in vitro), clinical experience, or traditional usage.
For many of the conditions discussed, treatment with prescribed (RX) or over - the - counter medication (OTC) is also available.
Consult your doctor, practitioner, and/or pharmacist for any health problem and before using dietary supplements or before making any changes in prescribed medications.



For the right freight rate, please visit our Webstore page!