Overview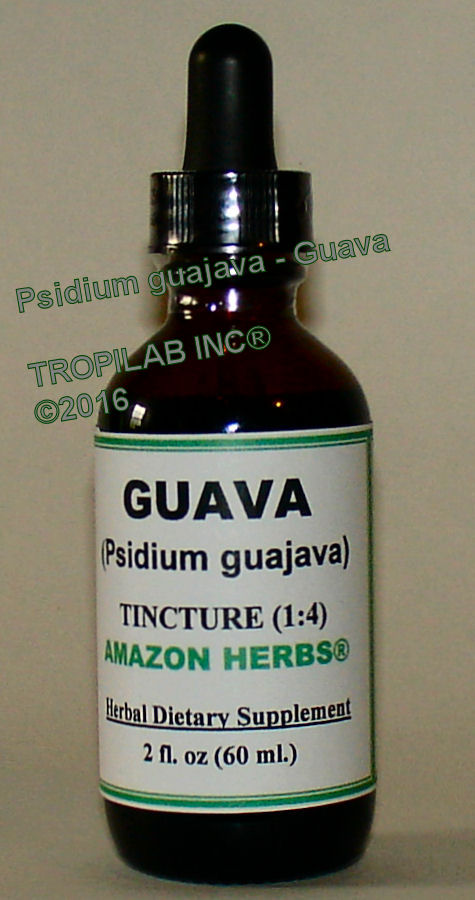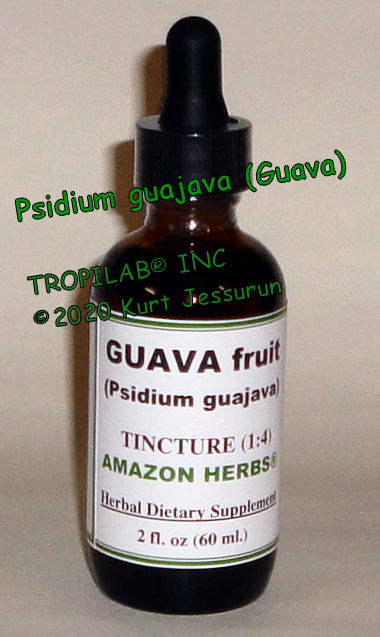 Guava is a small tropical tree that grows up to 35 feet tall; it is widely grown for its delicious fruit. It has a distinctive fresh aroma with a sweet musk odor. The natural vitamin C content is four times higher than in citrus.
Guava is considered a super-fruit, being rich in vitamins A and C, omega-3 and -6 polyunsaturated fatty acids and high levels of dietary fiber.
In Suriname's Traditional Medicine, the whole guava-plant is used.
The leaves and bark are used for an effective treatment of (acute) diarrhea and dysentery; for stomach upsets and to regulate menstrual periods.
Dysentery is a serious infection of the intestines resulting in severe diarrhea; blood and mucus are present in the feces.
Guava leaves and bark have been used to treat diabetes.
This plant also has anti-inflammatory and analgesic properties.
Guava is rich in the antioxidant lycopene (non-provitamin A carotenoid), which has recognized anti-cancer properties.
The plant has natural preventions and treatments of cancers of the lung, stomach, bladder, cervix, skin, and especially, the prostate.
It may lower the risk of heart disease, lowers LDL ("bad" cholesterol), enhances the body's defenses, and protects enzymes, DNA, and cellular fats.
For the preparation of herbal tincture and infusion (medicinal tea), only the leaves and fruits are used. An infusion of fresh leaves is used for wound cleaning to prevent infection and assist in healing.


Constituents

Ascorbic acid, pectin, fatty acids, tannins, phenols, triterpenes, essential oils, saponins, carotenoids, lectins, flavonoids (quercetin) and gallic acid.


Pharmacology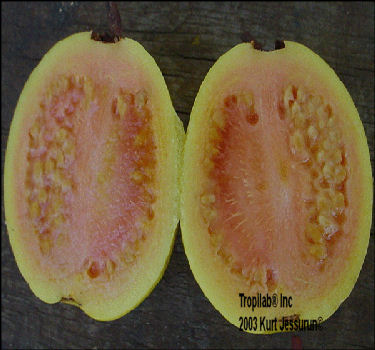 Medical research of extracts from the leaves and bark are implicated in therapeutic mechanisms against cancer, bacterial infections, inflammation and pain. For instance, the essential oils from the leaves have shown strong anti-cancer activity.
Studies showed extracts to be effective in preventing tumor development by depressing T cells.
The numerous tannins, polyphenolic compounds, flavonoids, ellagic acid, triterpenoids, guiajaverin, quercetin, and other chemical compounds, present in the plant, are speculated to account for the observed anti-inflammatory and analgesic effects of the plant's leaf extract.
Quercetin is thought to contribute to the anti-diarrhea effect of guava.
Research results suggest that the spasmolytic activity (relieves spasm of smooth muscle) of the Psidium guajava leaf remedy is mainly due to the aglycone quercetin, present in the leaf and in the extract, mainly in the form of five flavonols.
Quercetin has demonstrated anti-viral properties against a wide range of viral infections, including the flu. In a current cell study, it was shown to reduce viral replication of the dengue fever virus by 67%.
Research also suggests that Guava has cardioprotective effects against myocardial ischemia-reperfusion injury.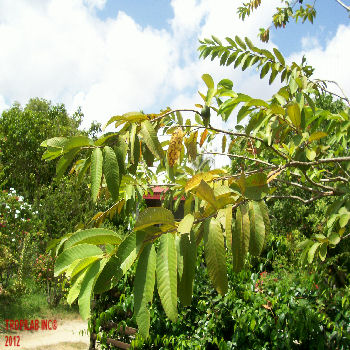 Leaf and bark extracts have demonstrated in vitro antimicrobial activity mostly associated with flavonoids, such as morin glycosides, quercetin, and quercetin glycosides. Activity has been demonstrated against a wide range of gram-positive and gram-negative human pathogens including Escherichia coli, Vibrio cholera, Giardia lamblia, and Shigella species, as well as Staphylococcus aureus and Pseudomonas aeruginosa.

Guava leaves may effectively treat Dengue fever and dengue hemorrhagic fever (DHF).
There are four dengue viruses (DEN-1 through DEN-4); they are immunologically related but do not provide cross-protective immunity against each other.
The fever is transmitted by the Aedes aegypti mosquito and caused by a virus.
Infection with this virus, increases vascular permeability (leakage of fluid in the blood vessels).
Good care is required to recover but dengue fever can be cured with natural ingredients; important is to anticipate at the occurrence of bleeding.
The leaves of Guava increase the platelets to avoid the bleeding; a decoction and tincture can raise the platelet count considerably within a period of hours.


Dosage

Tincture: 1 - 4 ml daily.
Infusion (herbal tea): 1 -2 cups daily.


Reference

Guava extract (Psidium guajava) alters the labelling of blood constituents with technetium-99m
P.R.C. Abreu,¹ M.C. Almeida,¹ R.M. Bernardo,¹ L.C. Brito,¹ E.A.C. Garcia,² A.S. Fonseca, and M. Bernardo-Filho¹
¹Department of Biophysics an Biometry, Institute of Biology Roberto Alcantara Gomes, University of Estate of Rio de Janeiro, Rio de Janeiro 20551030, Brazil
²Department of Physiology, Biological Sciences and Health Center, Federal University of Sergipe, São Cristóvão, Sergipe 49100000, Brazil
Department of Pharmacology and Psychobiology, Institute of Biology Roberto Alcantara Gomes, University of Estate of Rio de Janeiro, Rio de Janeiro 20551030, Brazil

Psidium guajava: A review of its traditional uses, phytochemistry and pharmacology
Rosa Martha Pérez

Gutiérrez Sylvia Mitchell, Rosario Vargas Soli
Laboratorio de Investigación de Productos Naturales, Escuela Superior de Ingenieria Quimica e Industrias extractivas IPN, Punto Fijo 16, Col. Torres Lindavista C.P. 07708 México, D.F. Mexico

Medicinal Plant Research Group, Biotechnology Centre, 2 St. John's Close, University of the West Indies, Kingston 7, Jamaica
Laboratorio de Investigación de Fitofarmacologia, Universidad Autónoma Metropolitana-Xochimilco A.P. 23-181 México, D.F. Mexico.

Pharmacological basis for medicinal use of Psidium guajava leave in hyperactive gut disorders.
Abdul Jabbar Shah, Sabira Begum, Syed Imran Hassan, Syed Nawazish Ali, Bina Shaheen Siddiqui, Anwarul-Hassan Gilani.


The above presentation is for informational and educational purposes only.
It is based on scientific studies (human, animal, or in vitro), clinical experience, or traditional usage.
For many of the conditions discussed, treatment with prescribed (RX) or over - the - counter medication (OTC) is also available.
Consult your doctor, practitioner, and/or pharmacist for any health problem and before using dietary supplements or before making any changes in prescribed medications.




For the right freight rate, please visit our Webstore page!