CURCUMA XANTHORRHIZA - TEMU LAWAK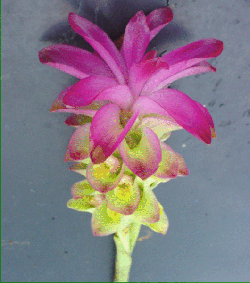 Synonym
Curcuma javanica, Curcuma zedoaria, Javanese turmeric.
Common name
Curcumine, gedè, haridra, indian saffron, java turmeric, jiang huang, shu gu jiang huang, temu lawak, tumulawak.
Family
Zingiberaceae (Ginger family).

Overview
Temulawak, originally from Indonesia, can grow up to 8 feet tall. The flower is yellow.
The large leaves stem from the root and the large rhizome of the plant contains herbal qualities.
Cultivation has spread to other countries including Surinam.
Java - turmeric is a mild spice used in several drinks to give these flavor and color (yellow). It is also used for seasoning food in the Indonesian cuisine; and used extensively in India (in curry).
It has an aromatic, pungent odor and a bitter taste.

Medicinal applications
Interesting is that the rhizome is used medicinally; it has liver protection properties.
The active ingredients (anti-oxidant and anti-edemic) are the curcuminoids (curcumin, dicinnamoyl - methane, bis - demethoxy - curcumin, demethoxy curcumin) encourage bile and prevent the formation of gallstones.
It also has essential oils, cinnamaldehyde and starch / carbohydrate.
The rhizomes have anti - viral and anti - inflammation properties (Hepatitis B and C).
Used against acne (inhibits bacterial growth); normalize digestion.
It increases breast milk production.
Can be used in the treatment of inflammatory bowel disease; effective the for long-term maintenance therapy in patients with ulcerative colitis; urinary tract infection (UTI).
Decreases cholesterol levels in blood and liver.

For more information: visit the MEDICINE FROM NATURE page.

Visit also our: Cancer, Cholesterol, Database®, Diabetes, Gout, Hepatitis and Hypertension pages.

A tincture can be used against, among other applications, high cholesterol and blood triglycerides.
For more information: applications & dosage page.

Temu lawak can also be used as a spice for food coloring.

Hardiness
USDA zone 9 B - 11.

Propagation
Rhizome and bulb.

Culture
Full sun, sandy loam soil.
Plant in frost free areas.
Can also be grown in a pot or as a garden plant.